Gift Intentionally
Choose a Unique Vase from The Collection
Holiday Animal will fill it with Beautiful Blooms
Free Delivery in the N. San Antonio area
Sending Sympathy Flowers?
Choose a vase & it will be delivered via partner
Vintage Vase & Floral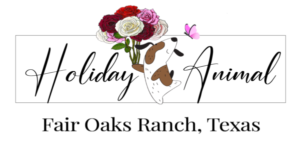 Make a Lasting Impression
Joyful Joyful
Deck their Halls & Tables

Christmas is all about sharing love, so put your heart into your gifting, and send your blooms in a vase that is a gift in itself.
I love the elegant and highly detailed Fitz & Floyd collectible Santas in the Shop. Let me fill one of them with a thoughtful display of fresh flowers to help you share the joy of the season with friends or family.
Why send a bouquet of flowers when you can gift a bouquet of flowers in a treasure that lasts and lasts?
Pre-Ordering Available
Reserve a vase now for
future delivery
Celebrate Affordably & Memorably
Find something you love? Reserve it for later delivery!
Vase Pricing Includes Beautiful Blooms
to fit the vase and occasion
The freshest seasonable blooms available at market are selected to create your unique floral arrangement, using a variety of flowers, the best color mixes and designs to fit the vase of your choice. Still not sure? Here's inspiration.