So you want to send some flowers…Awesome!
Why not gift something out of the ordinary?
We offer new unique & vintage vases for everyone & all occasions
Pricing includes the vessel you choose
Blooms and foliage to fit the vase and occasion*
White Glove Delivery in our local delivery area
Sending Sympathy Flowers?  We deliver thoughtful bouquets in vintage vases
under the name VINTAGE VASE & FLORAL.  Please call to arrange delivery.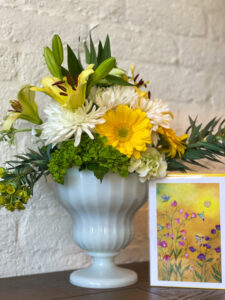 Questions? Check out our FAQs page
Floral images may take a moment to load.
Technical Stuff 😳
---
---
*Vased Florals shown above are representations of how your chosen vase could look with a floral arrangement; your vase will be thoughtfully arranged according to the occasion for your gifting and our fresh flower sourcing on delivery day.
A Holiday Animal Vintage Vase Collection card will accompany the gift letting your loved one know the vase was specially selected for them from our vintage vase collection.  It will provide the approximate age of the piece and maker (if known.)
That's how to Gift Intentionally